CrisisFit® is a brand new military-inspired crisis leadership programme that blends the skills and expertise of military, corporate risk, and crisis management approaches.
This is achieved by combining classroom learning, coaching, and mentoring from former military personnel with commercial experience and risk professionals: all are practicing risk and crisis management professionals with demonstrable success in the commercial and governmental sectors.
Being crisis fit needs regular training, coaching, and exercise to build fitness and resilience. This is our core principle: preparing participants to always be CrisisFit® and to manage the worst.
The CrisisFit® programme includes the flagship CrisisFit® course, which is spread over 12 weeks and comprises a mix of three phased face-to-face masterclasses, one-to-one coaching sessions, and practical exercises.
In addition, there are several other courses designed to give participants a deeper understanding and application of the core skills required to successfully manage challenges and disruptive events.
The CrisisFit® programme is designed and delivered by experienced experts who understand risk, and who know how to respond and how to manage situations when under intense pressure. 
All CrisisFit® trainers are practicing risk advisors, crisis responders, leadership experts, and psychologists delivering the programme via a distinctive blend of face-to-face teaching, remote coaching, and mentoring with shared experience.
The CrisisFit® Framework
Central to the programme is the CrisisFit® framework makes behaviour and relationships pivotal to leading successful outcomes when presented with seriously challenging situations or events. CrisisFit® builds on developing skills and confidence in the areas of strategy, operations, and influence: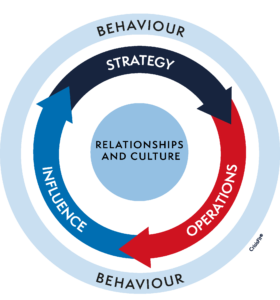 The CrisisFit® programme is designed around building three main competencies to help participants achieve this:  risk management in the moment; issue and crisis management; crisis communications.
The CrisisFit® programme
The flagship CrisisFit® programme follows a phased approach spread over 12 weeks to build enduring skill and confidence.  It is delivered by Programme Director Sheena Thomson, a former RN Officer and Bosnia veteran, and Crisis Management Lead Mark Harris, a former Army Officer and leading crisis management expert. Both have demonstrable success in leadership and crisis management as serving officers and in a wide range of UK and international commercial and governmental sectors.
The CrisisFit® programme  combines traditional classroom learning with discussion and scenario exercises, coaching, and advisory:

Phase One
Spread over the first nine weeks, participants will attend three full-day masterclasses, held on Thursdays three weeks apart, at our training venue in central London. Each programme has a maximum of twelve participants. This is to ensure a high level of attention, interactivity, experience sharing, and engagement with the two programme directors, Sheena Thomson and Mark Harris. This is complemented with two one-hour remote coaching sessions.
Phase 2
Week 10 or 11: One one-hour remote coaching session with Sheena or Mark to consolidate all learning and any application to participants' actions from the masterclass learning.
Phase 3
Week 12: A half-day immersive crisis simulation exercise to validate training. This will be held at the CrisisFit® training venue. On completion of the exercise, a final wrap-up session is available for up to six months from completion of CrisisFit®.
The CrisisFit® programme is being CPD accredited by one of the UK's leading accreditation services.
We run two scheduled programmes in Q1 (March to June) and in Q3 (September to December). The dates for the first CrisisFit® programmes are:
CF1: Thursdays: 3 March, 7 April, 5 May, 2 June 2022
CF2: Thursdays: 17 March, 28 April, 26 May, 23 June 2022
To enquire on cost and availability, please call Sheena on 0794 141 5524, use the contact us form or email sheena@sheenathomson.com
Customised CrisisFit® programmes
Sheena Thomson Consulting also customises the CrisisFit® programme to either a specific board, executive or organisational teams and can be delivered at our client's preferred location.
Sheena Thomson Consulting is a global, agile, and flexible consultancy and can deliver anywhere, subject to prevailing travel restrictions.
Additional CrisisFit® course
Risk Management for Today's World
This one-day, pre-programme masterclass is recommended for all attending the CrisisFit® programme, as, unlike other risk management training, the course draws out the natural linkages between risk, strategy, and culture in a practical and interactive way. It enables participants to fully understand risk and organisational resilience in a strategic context and its vital role in crisis management.
This coourse is delivered by Steve Fowler, an established leader in risk management training.
Media Handling and Hostility
This one-day masterclass is for leaders, spokespersons, subject matter experts, or anyone who has the responsibility or the likelihood of speaking to the media during a crisis. It enables participants to have a deeper understanding of narrative development and delivery during a dynamic and unfolding news story, Q & A techniques and application of these core skills to successfully manage challenges and disruptive events.
This course is delivered by Sheena Thomson, a former RN, NATO and EU spokesperson, assisted by former international correspondents.
Emotional Intelligence for Crisis and Issues Management
This two-day course is for anyone who wants to explore the psychology of emotion and its influence on human behaviour and decision-making, identifying the impact of our emotional responses and those stakeholders who ultimately determine the reputation and long-term business impact. It enables individual understanding of the competencies required to lead and communicate in emotionally charged situations and how to manage these using a practical, emotionally based approach. Participants leave this course with a model and action plan to apply in real-life situations.
This course is delivered by Dr Adrian Britten, a chartered psychologist and behaviour change expert.
Operational leadership in a crisis and Volatility, Uncertainty, Conflict, Ambiguity (VUCA)
This one-day masterclass for leaders and those with risk and crisis responsibilities and helps to prepare participants for the most challenging, fluid, and uncertain situations, issues, and events. It enables participants to better deal with day-to-day problems, flagging issues, mitigating and escalating risks and managing crises.
The course is delivered by David Mugridge, a former RN Officer who has held leadership roles in corporate and military frontline roles, including in Iraq and Afghanistan.
Practical leadership in a crisis
This two-day experiential course is for anyone who wants to develop their personal and professional resilience through hands-on leadership tasks and learning in a practical but controlled environment. It enables the development of self-confidence in a practical and supportive environment, improves self-discipline, encourages excellence, develops the skills to build a team-focused approach and critical decision making when under pressure.
The course is delivered by David Mugridge, a former RN Officer who has held leadership roles in corporate and military frontline roles, including in Iraq and Afghanistan.
Get in touch!
To find out more about CrisisFit® and how it can help you and your organisation, please call Sheena on 0794 141 5524, use the contact us form, email or sheena@sheenathomson.com