Transitioning to a sustainable future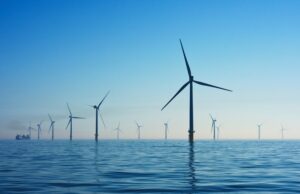 Sheena Thomson Consulting recognises the challenges and opportunities climate change presents to leaders and boardrooms.  It increasingly touches the issues we deal with, both professionally and personally.  
As COVID-19 continues to challenge leadership, decision-makers, and impact individuals across the world, there has been a step-change in efforts to advance the transition to a more sustainable future.  The current pandemic and climate change are both global challenges that cross borders without discrimination. The impact, implications and repercussions of COVID-19 have shone a spotlight once again on climate change. 
There are many competing leadership priorities, particularly during a pandemic. However, the last few months have also given us an opportunity to pause and reflect on how we manage climate change and the transition to a sustainable future. As a consequence, Environmental, Social and Governance topics (ESG) are increasingly becoming integrated into wider business strategy.  
Climate change remains controversial in many regions and sectors. The scientific evidence and data, however, provide irrefutable evidence of climate change and, as a consequence, there are increasing climate-related physical, transition and liability risks and regulations to help mitigate the financial risks.
Sheena Thomson Consulting has partnered with GeollectTM, a geospatial intelligence and analysis technology platform, to assist in understanding climate change, to plan for the future and to understand the complex demands and priorities for this transition. 
Together we have developed a desktop climate information platform which provides easy access to data and information that impacts physical, transitional and liability risks: air temperature, precipitation, and CO2 levels. This data is available by country, region, and selected major cities. 
This single platform provides multiple data sets key to understanding the past as well as understanding and managing the present and the future.  Models are available on the Intergovernmental Panel on Climate Change (IPCC) representative concentration pathway  (RCP) scenarios.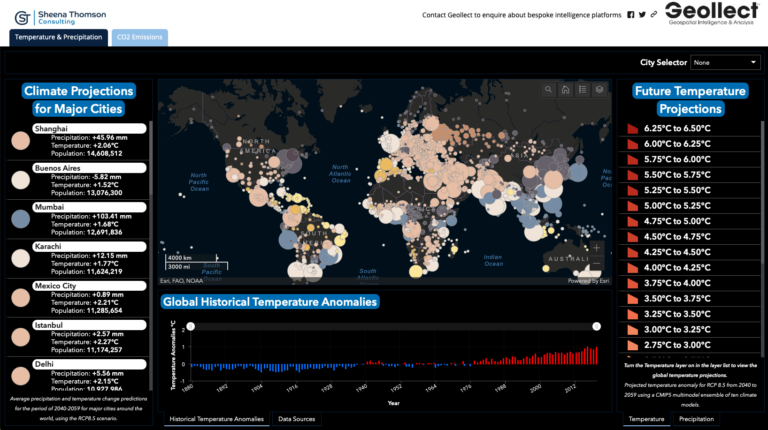 Climate change remains a regularly reported crisis that impacts an increasing cross-section of society across the globe. With 197 signatories, the United Nations Framework Convention on Climate Change (UNFCC) has been leading the global response since 1992.  The UNFCC has launched two further supporting treaties: the 1997 Kyoto Protocol, and, more recently, the Paris Agreement 2015 which most notably keeps the "global average temperature rise this century as close as possible to 1.5 degrees Celsius above pre-industrial levels."
These treaties provide the framework for the transition.  Corporations, organisations, governments, and individuals have a collective responsibility for changing strategic direction, innovating, incentivising, providing the legislative landscape and changing behaviours for this transition.
Useful References and Other Resources
United Nations Framework Convention on Climate Change (UNFCC) provides the latest guidance, global governmental thought leadership, events and reports on the transition to meet the Paris Agreement objectives. 
COP26 hosted by the UK in Glasgow  1 – 12 November 2021. Ahead of this, "the UK is committed to working with all countries and joining forces with civil society, companies and people on the frontline of climate change to inspire climate action."  
Funded by the IKEA Foundation the We Mean Business Coalition is "leading companies committed to bold climate action through the coalition partners" and publicly back the Paris Agreement. Members of the coalition include Unilever, Salesforce and Unilever and they have good insights and news page.
Chapter Zero is the directors' climate forum business leaders taking ownership of the climate challenge. As well as regular news and webinars, they have published a very useful board tool kit for non-executive directors.
The Carbon Project is an initiative by the Institute of Engineers (ICE) whose mission is  "to harness the capability and capacity of the global civil engineering community" with the transition to achieving a net-zero infrastructure system.
Academic
The Grantham Institute, London School of Economics, runs a programme covering 11 research areas related to climate change and its impact on business, the economy. They also run a series of events covering very topical issues relevant to those leading the transition to a sustainable future.
Yale Climate Connections is a site hosted by Yale University that publishes climate-related news, reports and trends, as well as reviewing other research and reports.
NGOs
The Climate Group is an international not-for-profit organisation that works with the energy, transport, building and industrial sectors to help achieve carbon zero by 2050.
If you would like your organisation included in this list, please contact us using the form below:
Follow Sheena Thomson's blog